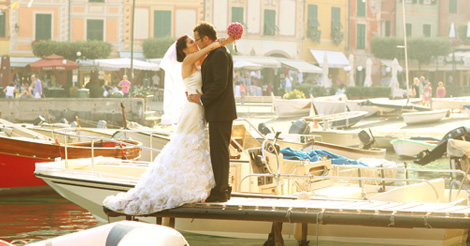 Like any cultural event, weddings can be traditional or trendy. A nuptial trend that has proven itself more than just a fad by its longevity is the increasingly popular destination wedding. These intricately orchestrated events combine the wedding and the honeymoon into one locale, inviting friends and family to the location to enjoy an event stretched over a weekend or more. While destination weddings have increased costs due to travel and planning, the experience for the bride and groom as well as the guests is always worth it.
When the phrase "destination wedding" is spoken, it often evokes scenes of a beachfront ceremony with sunny skies, warm climate, and barefoot bridal party. Certainly this can be the case, but a destination wedding can be in any climate, venue, or season the bride and groom choose. For this reason, it's important to understand the venue before choosing wedding attire. An autumn evening wedding in a Scottish castle will require significantly different clothing than a beach ceremony in Costa Rica. Let's look at popular trends.
Beach: linen pants, untucked cotton shirt, flip-flops or no shoes at all. Certainly an option, but not the required style on the shore. While beaches often entice one to dress down, there's nothing that says your special day can't be just as formal on the beach as it would be in a cathedral. In fact, the juxtaposition of formal dress in an informal setting is very chic and growing in popularity. The trick is to stay comfortable. You don't want to layer up for an afternoon wedding or you'll be soaked through before she ever makes it down the aisle. Lightweight attire can still look formal, especially if lighter shades of colors are chosen.
Other outdoors: shirt with vest, trousers, formal or dress shoes. Grassy meadows, trees hung with Spanish moss, the dock of a lake – while certainly tolerant of formalwear, these venues can invite a more playful atmosphere and you shouldn't be afraid to dress the part. Elegantly embroidered vests and bowties can add just the right touch of formality to a look, even with the absence of a jacket. For a significantly dressed-down look, suspenders coupled with a bowtie combine to add a whimsical feel to the groom's style – forget the jacket altogether!
Indoors: full tux, any variation on less formal look. Time of day can certainly dictate formality. Black tuxedos were originally worn as evening wear and are the traditional choice of grooms for evening weddings. Dark grey and even shades of deep blue can be just as striking, and with a colored shirt beneath the jacket, a stunning statement can be made.
Destination weddings begin with the location. Once you've settled on the locale, do a little research and decide what attire will make you the most comfortable and harmonize with the destination itself. Keep the location, the venue, climate, and time of day in mind as you choose the pieces for your wedding wardrobe. When you think you have a handle on the direction you want to go, let Krisar Clothing help you find the right colors, fabrics, and accessories that won't break the bank, but will make your destination wedding an event you'll never forget.